MULTIPURPOSE TOOTHPASTE DISPENSER



Wall Mounted Toothbrush Holder and Toothpaste Dispenser - Easy Attach and Installation
SAY NO TO MESSY BATHROOM WITH THE NEW MULTIPURPOSE TOOHTPASTE DISPENSER, IT IS EASY TO USE MAINTAIN AND INSTALL.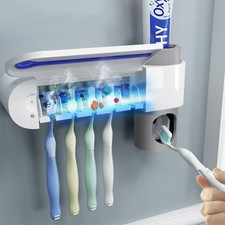 FEATURES

Free up Space in your Bathroom! - Upgrade your bathroom and free up some counter space by utilizing this sleek wall mounted space saver. Holds make up, lotions, and other bath items as well as toothpaste, and up to 4 toothbrushes.

Efficient Toothpaste Dispenser - If you have little ones in the house then you know very well that they'll squeeze toothpaste all over the place. Our wall mounted toothpaste dispenser prevents that by controlling the amount of toothpaste that comes out.

Hygenic Covers - There's tons of bad germs floating around your bathroom especially when you flush the toilet! Keep your toothbrushes safe with our hygienic plastic cover and rest assured that no germs are getting in your mouth.
PRICE: N20,000

DELIVERY POLICIES
WE DO DELIVERIES ONLY IN ABUJA, KADUNA, DELTA AND LAGOS
WE ACCEPT CASH OR TRANFER
ON THE DAY OF DELIVERY PLEASE ENSURE TO BE AVAILABLE FOR PICKUP
NOTE ALL TRANSACTIONS ARE PAYMENT ON DELIVREY THAT IS YOU DONOT NEED TO PAY UNTILL ASUCCESSFULL DELIVERY IS MADE TO YOU
FILL THE FORM BELOW TO PLACE YOUR ORDER